Are you ready for a digital transformation?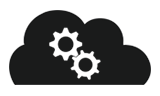 Technology plays an increasingly important role in our daily lives. These developments offer new opportunities for your business operations. We help you to use these opportunities as efficiently as possible. Do you want to make an improvement in your current business processes and / or do you want to automate business processes? ID2Bytes has been the specialist in the development of custom made software that contributes to the digital transformation for SME organizations.
Big Data, Cloud and Blockchain are a number of example concepts that cannot be ignored in IT. This often involves more complex material with a technical background. Do you need advice about an IT challenge? Then choose consultancy from ID2Bytes.
Do you have an idea or challenge, but do you not have the technical knowledge to translate this into an IT solution? ID2Bytes can help you translate your challenges into smart, cost-effective IT solutions or smart services. We discuss the options for your organization in an introductory meeting.
Read more about ID2Bytes