Software consultancy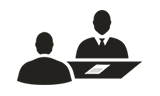 Are you seeking advice about an IT issue or are you looking to discuss improvement opportunities for your company? Do you want to know whether blockchain is interesting for your company? Or how your employees could be digitally supported in their work? Or how to respond flexibly to changes in the market?
We are happy to help you with a software consultancy session. With over ten years of experience and a broad knowledge of software and programming languages, ID2Bytes® offers valuable advice on digital questions. For example, we provide extensive advice on how IT can contribute to the success of your company. Together, we look at improvements that can be made, which improvements are to be prioritized and how to realize them.
Why software consultancy with ID2Bytes®?
Personal approach
Flexible scheduling
Tailor-made advice
Solutions to existing problems
Suggestions for the future
Would you like an introductory meeting or would you like more information about our software consulting?
Make an appointment