Consultancy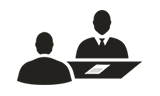 How do you get the maximum value from IT? A question that raises many new challenges. With the Consultancy service, ID2Bytes provides comprehensive advice on how IT can contribute to the success of your company. We enter into discussions with you and indicate where the improvement possibilities lie, which improvements have the greatest value and how this can be achieved.
With a broad knowledge of software and programming languages, ID2Bytes can support you in finding the most suitable solution(s) for your digital challenges. Do you want to know how you can respond rapidly to changes in the market with the help of software? Do you want to know if blockchain is interesting for your organization? Do you want to know how employees can be supported in their work? Or do you have questions about more complex technologies?
IT has countless options that we would like to discuss with you. Are you interested in our Consultancy services? Then quickly make an appointment with one of our specialists.
Make an appointment